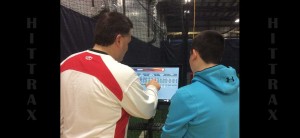 4 for 4 Player Acceleration is the area's leading baseball and softball instructional center.  At 4 for 4 we teach movements, not mechanics. Because no two athletes move the same way each player receives individualized instruction based on his or her own unique athletic abilities. Our instructors use the most up-to-date technology in the industry to diagnose and improve the quality of our players' movements so that they can reach their potential when they get on the field.  See below for a sample of some our technology partners.
Lessons Rates:  30 min./$50.00 or 60 min./$100.00
All lessons are by appointment only.  Click here to see instructor profiles and contact info.
 24 hour cancellation notice is required.
---

HitTrax is the world's only baseball and softball simulator.  We use our two Hittrax systems to collect and analyze out hitters' data during the course of their instruction.  Our coaches and hitters are able to see important metrics such as exit velocity, launch angle, and distance in real-time on ant MLB field or many other college baseball and softball fields.  Seeing is believing!  In addition, we're able to pit teams against each other in our popular Indoor Hitting Leagues.  It's as close as you can to to real games without stepping outside!

---
SwingTracker's cutting-edge technology brings science-based motion analytics to the baseball or softball swing.  Easy to understand metrics, data, and swing analysis put powerful information and innovation right at your fingertips!

---
 K-Motion Baseball is currently used by 20+ MLB teams and is the industry leader in 3-D wireless human motion learning. Our coaches use K-Baseball to gain a better understanding of how a player moves, sequences, and uses his or her body to create speed and power. K-Baseball is a great tool for creating efficient and powerful swings.
---
RMT stands for Rotational Movement Training. Our players use the RMT Club to train to rotate their bodies with athleticism, strength, coordination, and balance.
---